Have you been polishing your crown lately? No, not your literal crown, but your Crown Chakra. Keeping this chakra clear and aligned is the key to beginning your manifestation journey. And it has a lot more to offer you than a real crown. So let's get started.
When my crown chakra opened, I didn't know what the side effects were. I just woke up one morning and I felt as though my mind had been wiped clean-- there was no beginning or end. I was just… present. At first, I was a little scared because this feeling was new to me. I was so used to having my mind running on autopilot, bumping into old programs and releasing crazy chemicals like adrenaline into my body. So when I felt open and clean, I was scared that something had happened to me. Did I drink something? Did I eat something? Was I abducted by aliens and then wiped clean?
What the heck was happening???
I took some time to do some research and that's when I realized that this is the starting point. It's in this space that I began to merge with my higher self. I'm the one that writes my path, my manifestations. I'm no longer just a puppet in the game of life waiting to see how things are going to play out from my limiting beliefs and programs.
Now, I know that I'm not free from all my old programs, but I have begun to create just enough space for a new choice and new possibilities to manifest….lol. Now enough about me.
What is the Crown Chakra and why is it so important?
This is our seventh energy center that is located at the top of the head. It is violet in color, or sometimes white. Its symbol is a circle with one thousand petals. It is known as our spiritual connection, free will, enlightenment, wisdom, and universal consciousness. In essence, it is our highest potential!
The crown chakra is the veil between the physical and the spiritual.
When it's open; we feel as though we have a direct connection to the higher realms. Meditation allows us to activate this center, bringing our sense of awareness to expand. We no longer feel identified with the limited physical body. We'll simply see it as a vehicle for our light to use while living on this planet.
When I guide my clients to begin their healing journey, this is the first center I open up and connect to—allowing high-frequency light to enter through this point. This helps to nourish and replenish the body, the mind, and the spirit. As the energy flows down through to the other chakras, we are beginning to bridge the physical and the spiritual world. Clearing out the old and making room for the new.
The cool thing about the crown chakra is its influence on the nervous system, the muscular system, and your skin. That's why you appear more illuminated when you do more and more spiritual work. You know when someone "lights up a room"? This is because this chakra is in alignment.
When this chakra is working, you may receive transcendent ideas, much more expanded than your limited mind could have ever imagined. Pretty cool. This is also where you receive your downloads. Now we're talking!
It's also from this space where we begin to call back our spirit, our energy that is stuck in other dimensions of time and space. It's also the doorway for you to begin channeling other beings. I know we're getting pretty deep now. When you're ready to take that dive with me check out my new Mystical Membership which is actually on sale right now for $12.99/month.
So how do you know if your Crown Chakra is blocked or under-activated?
Well if you feel like you're running in the frequency of doubt, fear, and vulnerability, your crown chakra is most likely blocked. Especially if you feel disconnected from your higher self, meaning you feel alone. Do you lack inspiration? Do you feel like you're split in two, where your body and spirit are disconnected?
Do you come from the mindset of scarcity, not having enough, feeling as though you must collect as much as you can in order to survive and feel safe? Maybe you have the need to control everything and everyone around you. If any of these symptoms resonate with you it could be that your crown chakra is just blocked. Which is okay, that's why you're learning and growing...you're waking up!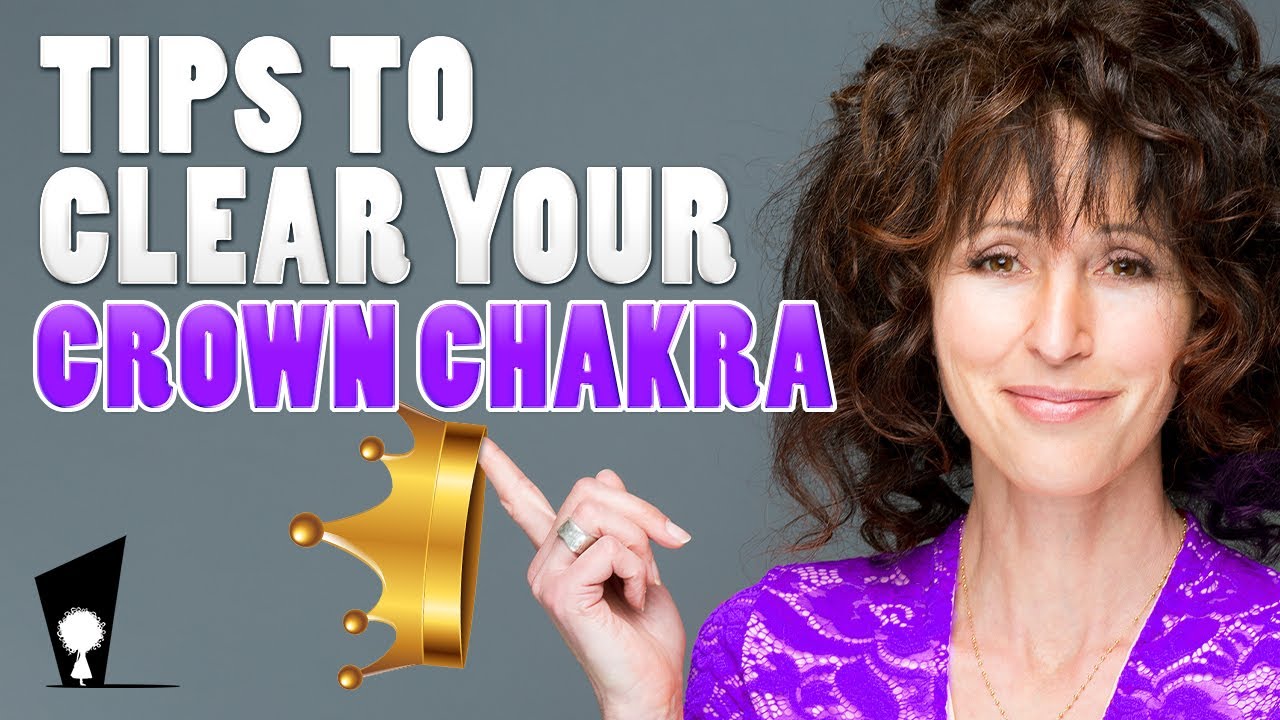 Watch My Video About Tips to Unblock your Crown Chakra
Take a moment to watch my video here about Tips to Unblock your Crown Chakra. I share tips as well as my experiences in a short video. (Just in case your get tired of reading 🙂
Here are some tips to try to open up and activate your Crown Chakra:
SOUNDS
Put your headset on and listen to the Solfeggio frequency of 963 Hz.
Or you can sing the tone of "OM" and the sound of "Eee". When I do this I like to feel the vibrations in my head. These sounds will match the vibration of the Crown.
If these don't resonate with you another key is silence. Simply sit in a quiet space and focus on your breath.
VISUALIZATION
Start with sitting in a comfortable position, now gently rub or tap the top of your head in a clockwise circular direction. Allow your eyes to focus at the lower forehead between the eyebrows. Imagine now that your spine is a hollow tube made of glass. Now imagine this tube being filled with a brilliant white light coming down from the cosmos.
Allow the light to flow down into you through your crown chakra. Feel the light spiraling down your entire body. And filling you up.
As you begin to feel this, repeat "I am one with the light."
Start to enjoy this warm feeling as it saturates your entire being, inside and out. Let every cell be infused by light. Think of the light as a manifestation of your higher self, and allow yourself to be at one with it. In this state of oneness, you may begin to hear your intuitive thoughts and inspirations. Be grateful for this connection. After 10 minutes, take a few deep breaths and open your eyes.
Some more tips I suggest-- you've heard me say them before-- include healthy eating, exercise, like yoga, and setting your intentions will also help speed up the process.
Now as you begin to open your crown chakra you may start to experience some pressure or tingling at the top of your head. This is just the new frequencies entering into your field. We're also activating your Pituitary Gland. This master gland controls hormones such as Insulin, Cortisol, and Melatonin. So this is going to help your visions become brighter and stronger.
So these are just a few tips I like to use to open up and activate my Crown Chakra. If you have any, I would love to hear from you. Just post it down below in the comments. Or go to the Members Tab here on my website and join our tribe where we discuss and share our experiences.
I just want to remind you that you are not your body or your emotions. That's just part of your avatar, your vessel. So if you start to experience intense emotions. Just allow them to pass through you, with no attachment and no judgment. You're clearing out the old crap, and that takes courage. So keep going, and be proud of yourself. You're upgrading...all those programs which were not all put there by you. Some just came with the avatar, so don't take it personally.
If you want, listen to more sounds to help unlock this chakra. And be sure to also check out my worksheets and guided meditations.
Until next time,
I'm Marisa Grieco, Your Mystical Guide
This has already been quite the year — and we're only halfway through. If you have felt like your life and routines have both been thrown off track, you are not alone. Everyone seems to be struggling with adapting to COVID-19 changes, including finding ways to stay in shape. If you've gained a few extra pounds over the last few months, don't beat yourself up about it. Instead, turn to these weight loss and wellness essentials to find balance again.
Nutrition and Health Professionals
If you are serious about dropping that extra pandemic weight, then you should think about consulting with a professional who can help you reach your goals. You can check out freelance job boards to find personal trainers, yoga teachers, and other experienced professionals who can make losing weight effortless. Hiring a freelance dietitian should be at the top of this list, however, since this person can help you create healthy and realistic meal plans to fit your weight loss and overall wellness needs. You could also consider hiring Marisa Greico to help clear your chakras and balance your energies for better health and happiness.
Portion Control Tips and Tricks
In addition to helping you figure out which foods to eat to fuel your weight loss, a nutrition expert will also be able to help you with portion control. Many people struggle with how much they should eat for meals and snacks, and this confusion can make it harder or even seemingly impossible to lose weight. A good place to start with getting control over your portions is to choose lean proteins that are about the size of your palm. Then aim to fill the rest of your plate with mostly veggies, and top everything off with a small serving of whole grains. If you want to avoid measuring and guessing at your portions for each meal, you can also try meal prep.
Pantry Staples and Fresh Food Essentials
One of the biggest challenges to slimming down during self-isolation is getting to the grocery store for fresh and wholesome foods. Luckily, there are plenty of pantry staples that you can use to prepare quick and healthy meals that will help you lose unwanted weight. With a few cans of beans you can whip up some delicious legume quesadillas or soups, and you can even combine several staples into a satisfying spinach tortellini soup. When you can get out to the grocery store, be sure to stock up on some refrigerator essentials that will help you stick to healthy snack and meal choices, including nut butters, fresh fruits, and pre-chopped protein.
Free or Discounted Online Workout Classes
If not being able to hit the gym or go to yoga class has caused you to gain some extra weight, the solution to your problem may be to take your workouts online. Since the pandemic began, many gyms, studios, and instructors have been offering free or low-cost workouts online to help people stay in shape in quarantine. You can find everything from pilates to yoga to HIIT to satisfy your exercise needs and help you lose that excess lockdown weight. So, try out a few classes, and be sure to mix it up from time to time so that you don't get too bored.
Supplements and Weight Loss Boosters
Fad diets and gimmicks are not the answer to losing weight, but there are a few supplements you can try to make things easier. For instance, some supplements reduce stress, which can be especially beneficial during these abnormally stressful times. So, how can this help you lose weight? Too much stress can lead to weight gain, so adding these supplements could be the secret to shedding those last few pounds. If you prefer not to take supplements, you may also be able to fuel your weight loss with fat-burning foods like salmon, cinnamon, or even chocolate.
When it comes to losing weight, it's all about striking a balance, especially when things are already so stressful in the world. So, look for ways to improve your whole health, whether it's working on your chakras, managing your emotions, exercising your body or nourishing yourself. Then weight loss is sure to follow. Photo Credit: Unsplash
COVID-19 has drastically changed everyday routines for billions of people around the world. While each household's situation is unique, that change of routine is something we all have in common. Those major changes can be challenging (if not overwhelming), but if you commit to making the right adjustments, you can stay positive and thrive through the pandemic. And who knows, maybe you will pick up some new habits and create new circumstances for yourself that you prefer once the pandemic is over.
To help you get some ideas flowing, here are a few responsibilities that you can't ignore during the pandemic, along with some areas where you can make changes that benefit you and those around you:
Must-Do's During COVID-19
There are some tasks that need to be fulfilled despite a worldwide pandemic going on. However, you will likely need to tweak how you do them in order to stay safe and healthy. This might include wearing a face mask, abiding by social distancing guidelines, washing your hands, and using a disinfectant.
For instance, since everyone needs food, trips to the grocery store are essential, but you want to make sure you limit how often you go. Also, if you have urgent medical appointments, you don't want to miss them, and you don't want to miss work if your employer is still open in a physical location.
Moving homes is another task that often cannot wait. And even though the real estate industry has changed how they do things, Redfin explains that technology makes it possible to buy a home in the COVID-19 era. Through virtual open houses, video chat tours, and 3D walkthroughs, you can still see tours of homes all across the country.
Career
If you've been laid off or had your hours cut, you are probably in a position where you need to find solutions fast. Evaluate your interests and skills, and look into doing freelance work. Online job boards are a great place to get your name out there, and companies use these sites to find qualified workers across a wide range of industries. You might even like freelancing more than your previous job, or find an opportunity to start a new career.
Fitness
Since they are nonessential businesses, fitness centers across the country have shut their doors for the time being. If you are used to working out around people, it can be hard to get motivated to exercise at home. But the truth is there are a lot of workouts you can do from home, many of which are free. And if you make space or even build a home gym, you could find that you prefer the convenience of exercising in the comfort of your own home.
Diet
Eating habits are something else that could easily fall to the wayside during the pandemic if you're not careful. But take this opportunity to try new methods of getting healthy food. As Verywell Fit points out, there are many grocery and meal delivery services to choose from, and a lot of restaurants have embraced delivery services as the new norm. Of course, if you need immediate groceries, going to the market yourself might be your only option. Even so, find a store that offers curbside pickup.
There's no getting around the fact that COVID-19 has made life harder for a lot of people. But there may be a silver lining in certain areas of your life once you make some adjustments. Just be sure to take all the necessary safety precautions and keep an open mind about changes in your routine, and maybe you will discover things about your new life that you prefer to the old ways.