Have you been polishing your crown lately? No, not your literal crown, but your Crown Chakra. Keeping this chakra clear and aligned is the key to beginning your manifestation journey. And it has a lot more to offer you than a real crown. So let's get started.
When my crown chakra opened, I didn't know what the side effects were. I just woke up one morning and I felt as though my mind had been wiped clean-- there was no beginning or end. I was just… present. At first, I was a little scared because this feeling was new to me. I was so used to having my mind running on autopilot, bumping into old programs and releasing crazy chemicals like adrenaline into my body. So when I felt open and clean, I was scared that something had happened to me. Did I drink something? Did I eat something? Was I abducted by aliens and then wiped clean?
What the heck was happening???
I took some time to do some research and that's when I realized that this is the starting point. It's in this space that I began to merge with my higher self. I'm the one that writes my path, my manifestations. I'm no longer just a puppet in the game of life waiting to see how things are going to play out from my limiting beliefs and programs.
Now, I know that I'm not free from all my old programs, but I have begun to create just enough space for a new choice and new possibilities to manifest….lol. Now enough about me.
What is the Crown Chakra and why is it so important?
This is our seventh energy center that is located at the top of the head. It is violet in color, or sometimes white. Its symbol is a circle with one thousand petals. It is known as our spiritual connection, free will, enlightenment, wisdom, and universal consciousness. In essence, it is our highest potential!
The crown chakra is the veil between the physical and the spiritual.
When it's open; we feel as though we have a direct connection to the higher realms. Meditation allows us to activate this center, bringing our sense of awareness to expand. We no longer feel identified with the limited physical body. We'll simply see it as a vehicle for our light to use while living on this planet.
When I guide my clients to begin their healing journey, this is the first center I open up and connect to—allowing high-frequency light to enter through this point. This helps to nourish and replenish the body, the mind, and the spirit. As the energy flows down through to the other chakras, we are beginning to bridge the physical and the spiritual world. Clearing out the old and making room for the new.
The cool thing about the crown chakra is its influence on the nervous system, the muscular system, and your skin. That's why you appear more illuminated when you do more and more spiritual work. You know when someone "lights up a room"? This is because this chakra is in alignment.
When this chakra is working, you may receive transcendent ideas, much more expanded than your limited mind could have ever imagined. Pretty cool. This is also where you receive your downloads. Now we're talking!
It's also from this space where we begin to call back our spirit, our energy that is stuck in other dimensions of time and space. It's also the doorway for you to begin channeling other beings. I know we're getting pretty deep now. When you're ready to take that dive with me check out my new Mystical Membership which is actually on sale right now for $12.99/month.
So how do you know if your Crown Chakra is blocked or under-activated?
Well if you feel like you're running in the frequency of doubt, fear, and vulnerability, your crown chakra is most likely blocked. Especially if you feel disconnected from your higher self, meaning you feel alone. Do you lack inspiration? Do you feel like you're split in two, where your body and spirit are disconnected?
Do you come from the mindset of scarcity, not having enough, feeling as though you must collect as much as you can in order to survive and feel safe? Maybe you have the need to control everything and everyone around you. If any of these symptoms resonate with you it could be that your crown chakra is just blocked. Which is okay, that's why you're learning and growing...you're waking up!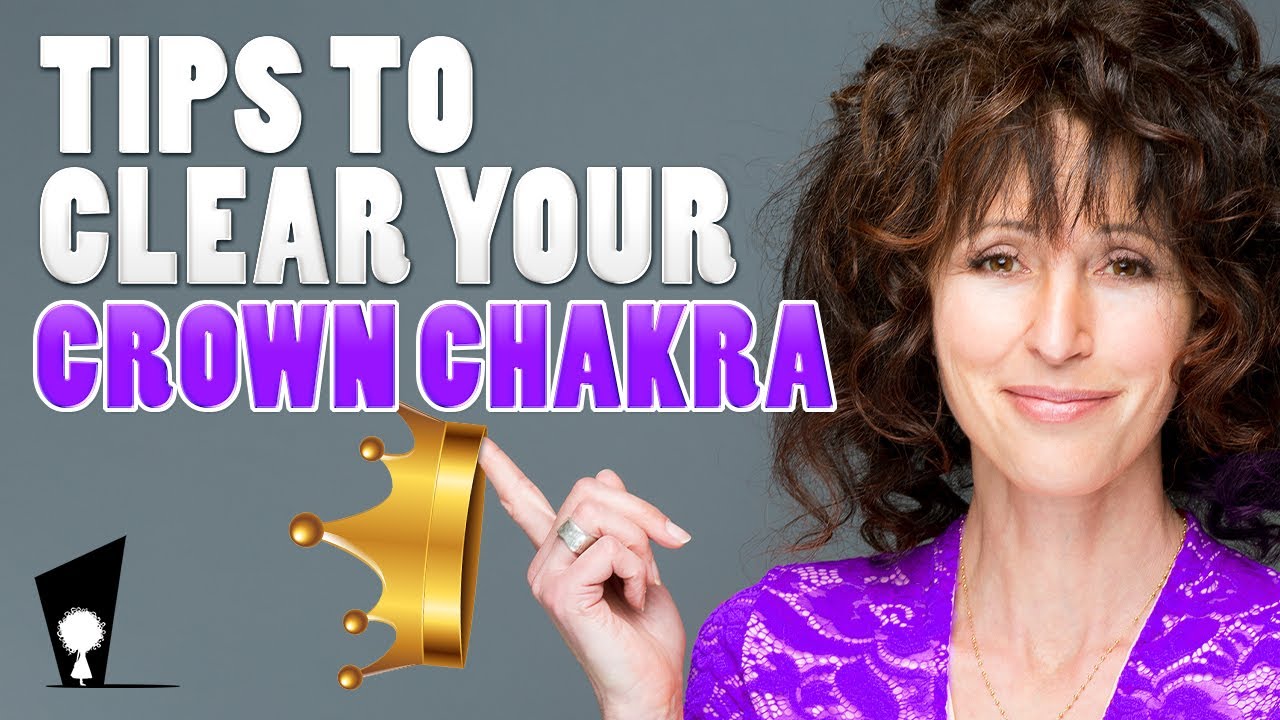 Watch My Video About Tips to Unblock your Crown Chakra
Take a moment to watch my video here about Tips to Unblock your Crown Chakra. I share tips as well as my experiences in a short video. (Just in case your get tired of reading 🙂
Here are some tips to try to open up and activate your Crown Chakra:
SOUNDS
Put your headset on and listen to the Solfeggio frequency of 963 Hz.
Or you can sing the tone of "OM" and the sound of "Eee". When I do this I like to feel the vibrations in my head. These sounds will match the vibration of the Crown.
If these don't resonate with you another key is silence. Simply sit in a quiet space and focus on your breath.
VISUALIZATION
Start with sitting in a comfortable position, now gently rub or tap the top of your head in a clockwise circular direction. Allow your eyes to focus at the lower forehead between the eyebrows. Imagine now that your spine is a hollow tube made of glass. Now imagine this tube being filled with a brilliant white light coming down from the cosmos.
Allow the light to flow down into you through your crown chakra. Feel the light spiraling down your entire body. And filling you up.
As you begin to feel this, repeat "I am one with the light."
Start to enjoy this warm feeling as it saturates your entire being, inside and out. Let every cell be infused by light. Think of the light as a manifestation of your higher self, and allow yourself to be at one with it. In this state of oneness, you may begin to hear your intuitive thoughts and inspirations. Be grateful for this connection. After 10 minutes, take a few deep breaths and open your eyes.
Some more tips I suggest-- you've heard me say them before-- include healthy eating, exercise, like yoga, and setting your intentions will also help speed up the process.
Now as you begin to open your crown chakra you may start to experience some pressure or tingling at the top of your head. This is just the new frequencies entering into your field. We're also activating your Pituitary Gland. This master gland controls hormones such as Insulin, Cortisol, and Melatonin. So this is going to help your visions become brighter and stronger.
So these are just a few tips I like to use to open up and activate my Crown Chakra. If you have any, I would love to hear from you. Just post it down below in the comments. Or go to the Members Tab here on my website and join our tribe where we discuss and share our experiences.
I just want to remind you that you are not your body or your emotions. That's just part of your avatar, your vessel. So if you start to experience intense emotions. Just allow them to pass through you, with no attachment and no judgment. You're clearing out the old crap, and that takes courage. So keep going, and be proud of yourself. You're upgrading...all those programs which were not all put there by you. Some just came with the avatar, so don't take it personally.
If you want, listen to more sounds to help unlock this chakra. And be sure to also check out my worksheets and guided meditations.
Until next time,
I'm Marisa Grieco, Your Mystical Guide