How to Clean your Energy Field - Without Using Bleach.
I know, I know. You have more than enough to clean - your house, your kids, your husband… Trust me, I get it. But our energy fields are constantly changing and interacting with those around us. We must clean them as well. Since I have a pretty busy schedule, I don't always remember to centre myself or put a shield of white light around my body. And, if you're sensitive, like most psychics, you will pick up other people's thoughts and emotions better than a lint brush at a dog shelter. It's draining, and it leaves your energy field less than sparkling. It can even lead to negative self-talk and that unbalanced feeling that can make you doubt yourself. We don't need more of that.
So it's time for a little spring cleaning… no bleach required.
Here are a few of my favorite tips to keep my energy field clean:
Tip #1: Take a bath with sea salt.
Dissolve about a cup of sea salt in your bath water, sit back and relax. Who knew cleaning could be so easy? Take it a step further and say a mantra or do a meditation to focus your energy on your intention—resetting your energetic field. And you don't need the fancy, expensive kind. I use Dr. Teal's Epsom salts from the grocery store.
Tip #2: Use A Sage Wand.
Burning sage, aka smudging, has been used for centuries to cleanse the air and auras. I like to make a circle around myself and say "If this is not mine, please take it away." Say it aloud or if you're feeling bashful, think it to yourself. But I promise, the more you do this, the more comfortable you'll be.
Tip #3: Get Outside!
Sunshine naturally purifies your energy so taking a walk will do you good. Even better? Take a walk in nature. Find a lake, beach, or forest and feel your good vibes rise. But remember, get out of your head. Connect to the beauty of nature and leave any negative feelings outside.
Tip #4: Get Your Groove On.
No, not "that" groove. You know how you smile the second your favorite song comes on? Well, press play and start dancing. Movement is a great way to clear up your energy field. I'm giving you permission to be that crazy person singing at the top of your lungs in the car next to you.
We've talked about how negativity can affect your energy field and how you can make it bright and shiny again when you clean it. So now, let's talk about how you can prevent it from getting damaged and dirty altogether.
With the holidays coming up, you know that there are going to be a lot of trips to a crowded mall, a lot of parties, and a lot of family and friends time. And even if you don't have a crazy passionate family like mine (I love you all, I promise!), it can really wipe you out.
Visualize a pure white light flowing all over you. It starts at the top of you head and flows all the way down through each energetic point in your body. Visualize this white light washing away any low frequencies that no longer serve you - anything that is not giving you the chance to bring in positive feel good ones.
Here are 3 Simple Tricks to Protect Your Energy Field.
Trick #1: Shielding.
Imagine a loving layer of white light surrounding your body. Make sure your intention is to protect your energy field and ask the universe or your guides to help you. With practice, this can be as strong as a brick wall. (maybe add a moat around your brick wall if you're having an especially bad day or walking into somewhere you know that's going to drive you crazy.) You may have to do this several times a day. It only takes a few seconds so don't let the bad vibes in.
Tip #2: Visualization
Visualize a pure white light flowing all over you. It starts at the top of you head and flows all the way down through each energetic point in your body. Visualize this white light washing away any low frequencies that no longer serve you - anything that is not giving you the chance to bring in positive feel good ones.
Tip #3: Crystals
Crystals can be a great way to ward off negativity. It's all in your intention, I let my crystals know how I want them to protect me. Especially because I usually forget to do the top two tricks. Try an amethyst or a smoky quartz crystal and see if you can feel the difference.
I also think it's important to give yourself permission to SET BOUNDARIES. No, they're not just for the bedroom, though those are important too. You know that friend who always just complains? Think about the feeling you get when you go to lunch with her. Before you even get there, you're bracing yourself for whatever drama she's going to share. And by the time you leave, her negativity is weighing heavier on you!
So next time you're in this situation or even going into a house full of your in-laws, tell yourself that you're not going to let anyone else bring you down. Create that boundary and set limits so that you decide what you're going to feel. If you know that you can only handle two hours there before you're ready to hide in the closet with a bottle of wine, then fake an emergency at that two-hour mark.
I know it can be especially hard for sensitive people to say no or back away from being the shoulder that everyone cries on, but you need to take care of you too!
Want to learn more? Check out the next section of the "Hands of Light" book. There's a ton of information in here that might be particularly useful with the holidays coming up. Don't have it? Get it here.
You've probably heard the term "chakras" thrown around at yoga class or when people talk about meditation, but if you were like me, you might not know what it all means. The term chakra actually translates to wheel in Sanskrit and it refers to the wheels of energy throughout the body. Yup, you have spinning wheels that center and surround your body. This is where consciousness and energy meet. Like on a date (but not). People call this energy Prana. It's pretty important too, and you have to take care of these chakras if you want to live a healthier, happier life.
Let's talk about the seven main chakras. They run from the base of your spine to the top of your head. Nerd alert: If you've seen Doctor Strange, they look like those spinning discs he creates, but in different colors.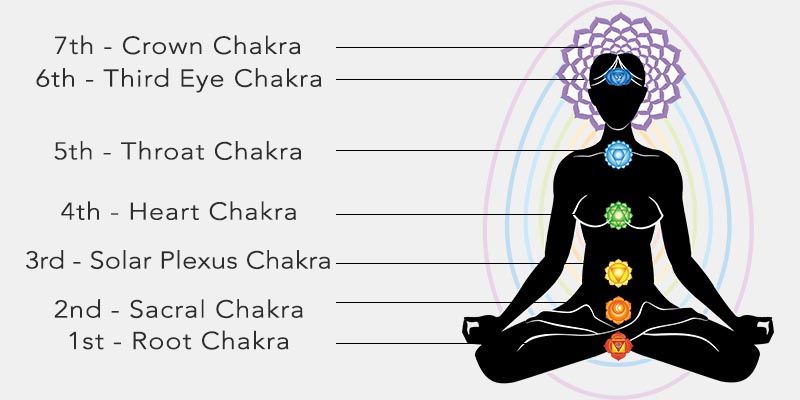 In my video, I share a metaphor of a chakra and a clogged toilet. (Watch here) No one likes a clogged toilet… or chakra. It's a mess. It leads to crappy feelings and crappier results. You might feel off, your head might be a little fuzzy (and not from the wine), you find it hard to express your emotions, there's a lot of negative self talk, or you might even get sick.
I know when my chakras are clogged I start to feel stuck and depressed. My self doubt comes out full swing and I'm back to playing the same old dysfunctional records I thought I was done with. Bring out the violin, I'm about to play the "woe is me" song. There are many side effect of blocked or unbalanced chakras and important to deal with these block if you want to live a fuller more vibrant life.
Depending on which of your chakras is clogged, you'll have different exercises or rituals to do. Once you establish what's affecting you, you can work specifically with the vibration of that chakra and restore its energy. So remember to shift your awareness to the chakra you want to work with. You can open each one and align it to keep your energy flowing freely. I'll go into more detail next time on each chakra and how to keep them balanced and healthy so stay tuned!